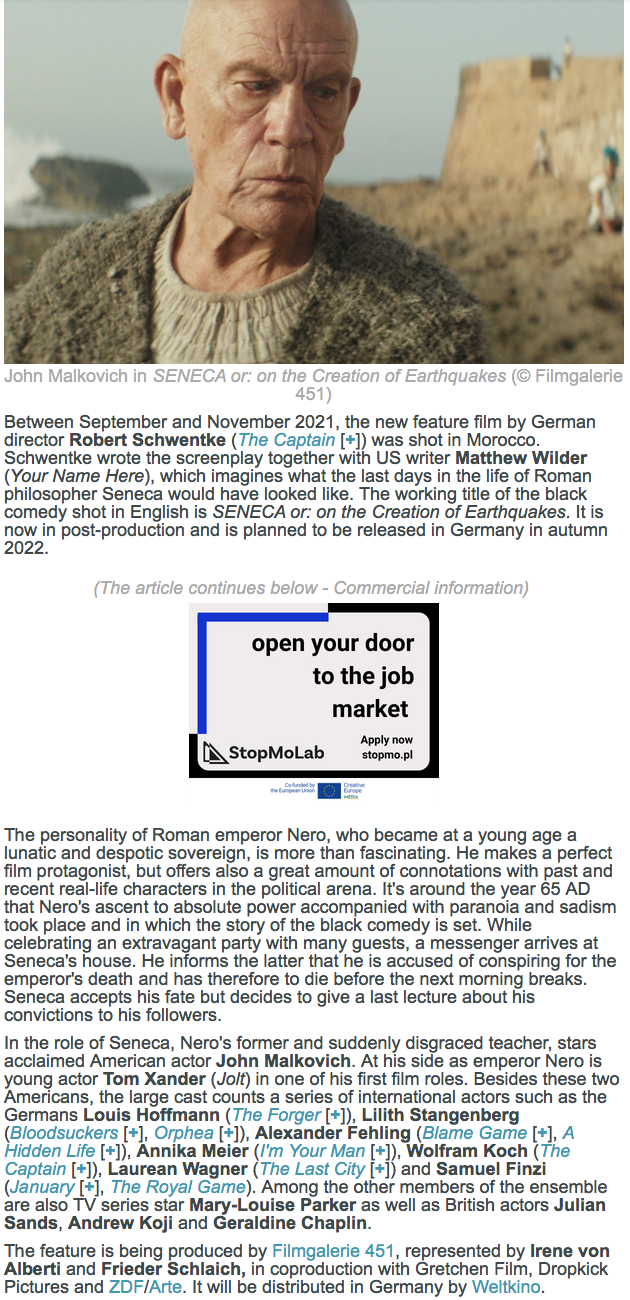 Seneca – cineuropa article 24/03/2022
Between September and November 2021, the new feature film by German director Robert Schwentke (The Captain) was shot in Morocco.
Schwentke wrote the screenplay together with US writer Matthew Wilder (Your Name Here), which imagines what the last days in the life of Roman philosopher Seneca would have looked like. The working title of the black comedy shot in English is SENECA or: on the Creation of Earthquakes. It is now in post-production and is planned to be released in Germany in autumn 2022
The personality of Roman emperor Nero, who became at a young age a lunatic and despotic sovereign, is more than fascinating. He makes a perfect film protagonist, but offers also a great amount of connotations with past and recent real-life characters in the political arena. It's around the ear 65 AD that Nero's ascent to absolute power accompanied with paranoia and sadism took place and in which the story of the black comedy is set. While celebrating an extravagant party with many guests, a messenger arrives at Seneca's house. He informs the latter that he is accused of conspiring for the emperor's death and has therefore to die before the next morning breaks.
Seneca accepts his fate but decides to give a last lecture about his convictions to his followers.
In the role of Seneca, Nero's former and suddenly disgraced teacher, stars acclaimed American actor John Malkovich. At his side as emperor Nero is young actor Tom Xander (Jolt) in one of his first film roles. Besides these two Americans, the large cast counts a series of international actors such as the Germans Louis Hoffmann (The Forger), Lilith Stangenberg (Bloodsuckers, Orphea), Alexander Fehling (Blame Game, A Hidden Life), Annika Meier (I'm Your Man), Wolfram Koch (The Captain), Laurean Wagner (The Last City) and Samuel Finzi (January, The Royal Game). Among the other members of the ensemble are also TV series star Mary-Louise Parker as well as British actors Julian Sands, Andrew Koji and Geraldine Chaplin.
The feature is being produced by Filmgalerie 451, represented by Irene von Alberti and Frieder Schlaich, in coproduction with Gretchen Film, Dropkick Pictures and ZDF/Arte. It will be distributed in Germany by Weltkino.